Now Available: 2021 Queen's Beast White Greyhound 1 oz Gold Coin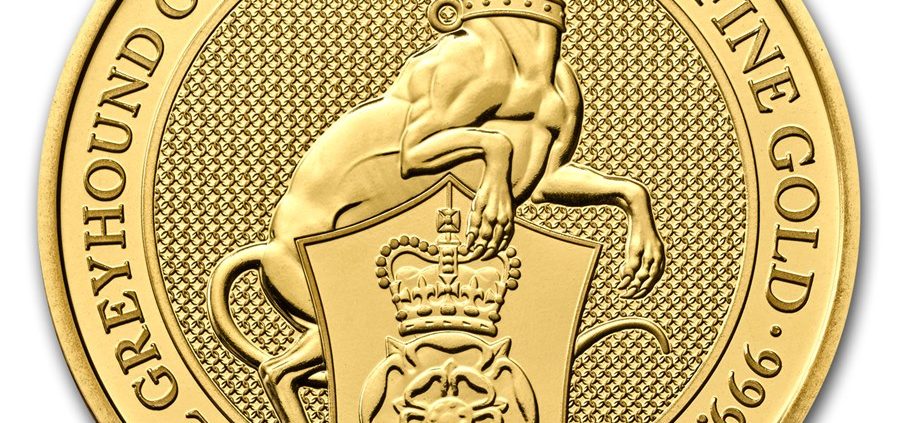 California Gold and Silver Exchange is excited to be carrying the 2021 Queen's Beast White Greyhound 1 oz Gold Coin.  This coin is now available for purchase. Get this 10th coin in the series while supplies last. Furthermore, Click Here for more information on gold coins we carry.
The Queen's Beasts Collection brings ancient symbols of ancestry, power, and heraldry to life on a series of prestigious coins. Acclaimed designer Jody Clark has reimagined the ten beasts that stood guard at the coronation of Her Majesty The Queen in 1953; each one representing a strand of ancestry brought together in a young woman about to be crowned before the nation.
Combining investment with exceptional design, this popular series concludes with a design showcasing the majestic White Greyhound of Richmond. In 1449, Henry VI granted the earldom of Richmond to his half-brother Edmund Tudor. With this grant, Edmund received Henry's permission to use a particular version of the Royal Arms featuring a white greyhound as a heraldic supporter. Edmund's only son would become Henry VII when he defeated Richard III at the Battle of Bosworth in 1485. The greyhound expressed both his Tudor and Lancastrian ancestry, through which he claimed the throne.
The shield the white greyhound is clutching shows the Tudor rose. Combining the red rose of Lancaster and the white rose of York, it symbolizes how Henry VII united these warring houses, ending the Wars of the Roses. Artist Jody Clark captures the greyhound's nobility, as well as its power and elegance. Featuring a secure chainmail background, the realism of the White Greyhound of Richmond is displayed to its fullest.
Key Points:
Struck in one ounce of 999.9 fine gold
Finished to The Royal Mint's bullion standard
Both sides of the coin were created by prestigious designer Jody Clark
Features a secure, detailed chainmail background texture
Struck by The Royal Mint – the official mint of the United Kingdom
Packaged in a single coin capsule
For more information on the coins in the Queen's Beast series visit The Royal Mint.
https://cagoldandsilver.com/wp-content/uploads/2021/06/gb-white-greyhound-back.jpg
900
900
Amira
https://cagoldandsilver.com/wp-content/uploads/2017/06/logo.png
Amira
2021-06-21 16:23:50
2021-06-21 16:23:50
Now Available: 2021 Queen's Beast White Greyhound 1 oz Gold Coin